Seckou Keita – Homeland Band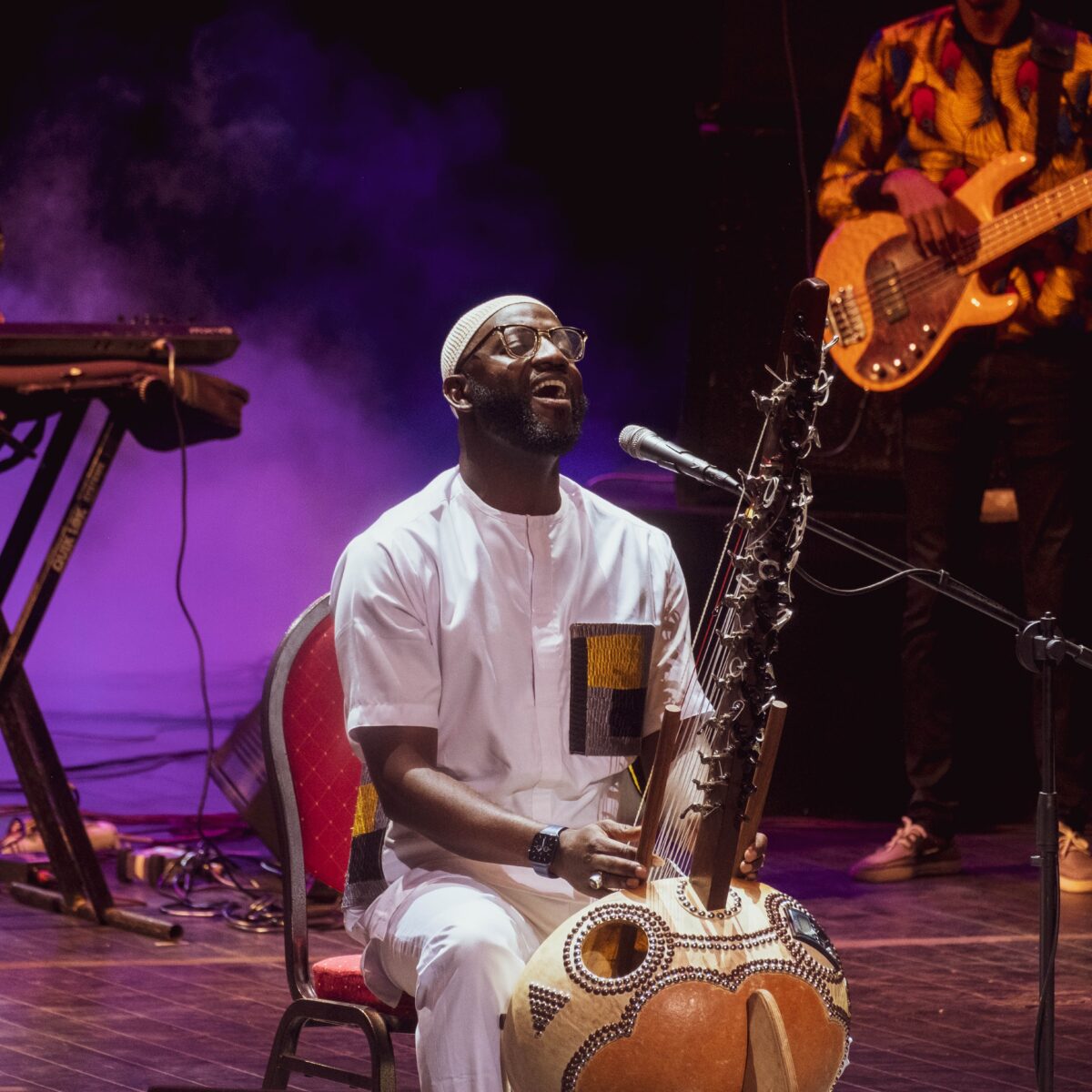 "Seckou Keita can be classed alongside the great Toumani Diabate as one of the adventurous masters of the kora" – Robin Denselow, The Guardian
Nicknamed "the Hendrix of the Kora", Seckou has been celebrated for his ingenious tunings and virtuosity and praised as "one of the finest exponents of the kora". Performing all over the globe as a solo artist and with his ground-breaking quintet, he has captivated audiences at WOMAD, Hay, Glastonbury, Tokyo Jazz, Chicago World Music Festival, Sydney International, Montreal Jazz Festivals and many more places.
Acclaimed collaborations with numerous jazz, pop, Latin, folk and classical artists, notably include Damon Albarn & the Africa Express; Welsh harpist Catrin Finch; Cuban pianist Omar Sosa; AKA trio with Italian guitarist Antonio Forcione and Brazilian percussionist Adriano Adewale; Paul Weller and the Folk Collective; The Lost Words, Spell Songs (2019) joined by the words of Robert McFarlane and artwork of Jackie Morris.
Seckou began pulling together his Senegalese 8 piece band in 2020.  Here, the kora is backed with the dynamic, uplifting and at times hypnotic rhythms of bass, percussion, drums, keyboard and extraordinary vocals, that lifts the audience to its feet and leaves them buzzing!
The group includes one of Senegal's best known vocalists, Korka Dieng. Korka has performed with one of Senegal's finest rappers, Didier Awadi. She is well known for her versatility and distinctive vocals.  Joining them too is Moustapha Gaye, lead guitarist for Youssou n'Dour, who toured with Seckou in 2012 and features on his album Miro.
Homeland, the album will be released in 2024, and will produced by Seckou Keita and Moussa N'Gom.
Line up:
Seckou Keita: Kora, voice
Moustapha Gaye: Guitar
Kemo Cissokho: Percussion
Moussa N'Gom: Keyboard and sampling
Matar N'Diongue: Drum kit
Modou Gueye: Bass
Korka Dieng: Backing vocals
Binta Suso: Backing vocals
"An absolutely magical sound" – Mark Radcliffe, BBC Radio 2
"Senegalese kora maestro, the king of the African harp…incredible. What a wonderful ambassador for the traditional music of his country" – Frank Hennessey, BBC Radio Wales
SIMILAR ARTISTS TO Seckou Keita – Homeland Band