Michele Stodart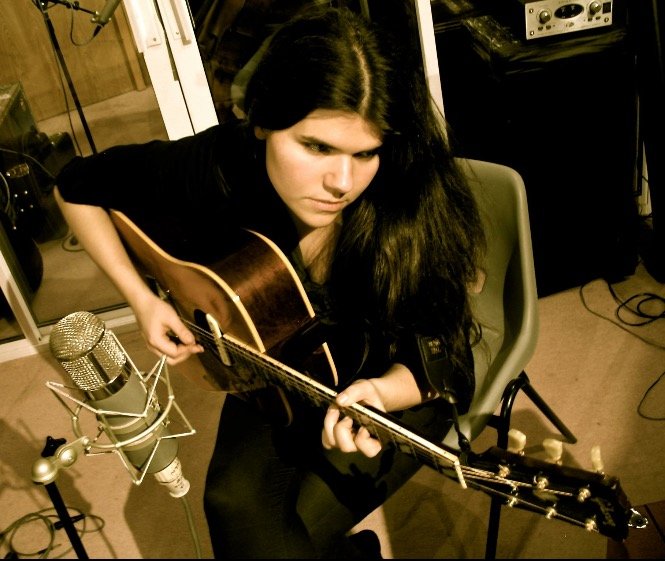 Michele Stodart is an award-winning solo artist, singer-songwriter, and multi-instrumentalist. Renowned as bassist, vocalist and co-songwriter of much-loved, double-platinum selling band The Magic Numbers, who have released five critically acclaimed studio albums with top ten singles, continue to play regularly and tour world-wide together.
Michele has always pursued her own writing alongside her band, and, after almost a decade of touring with The Magic Numbers, she took some time out to record and release an album of her own songs. This resulted in Wide-Eyed Crossing (2012), a southern-drenched journey into Americana country blues. "I never thought I'd release a solo album, but I needed closure from those songs, so recording them was the only way to truly move on", she said at the time.
In 2012 Michele began playing solo shows and tours, as well as continuing her work with the band. So far from 'moving on', she began to build and grow her profile as a solo artist. She soon started to become known for her intimate, heart-wrenching live performances, gaining her new fans along the way, as well as recognition for her solo material, helping to establish her as an artist songwriter in her own right. A few years later, she was signed by none other than Bjork's record label, One Little Independent. A second solo album Pieces (2016) followed shortly after.
Michele divides her time between her work with the band and her various solo projects. In between recording and touring, she has also been building a name for herself as musical director, curator and collaborator for a range of events. She regularly promotes nights at Camden's legendary Green Note which she curates and hosts, inviting friends and special guests to perform and collaborate with her. She has also curated, directed and performed in a successful series of multi-artist shows celebrating International Women's Day annually.
As well as being invited to curate stages at various festivals and events. Using her skills as a songwriter and multi-instrumentalist has also led to many collaborative projects on stage and in the studio, with artists such Kathryn Williams, Billy Bragg, Natalie Imbruglia, David Ford, Ren Harvieu, Charlie Dore, David Kitt, O'Hooley & Tidow amongst many others.
In 2019 Michele graced our screens in the Danny Boyle / Richard Curtis blockbuster film 'Yesterday'. She was chosen for her role in the movie due to her melodic bass playing and electric, enigmatic stage presence. Working alongside Boyle, Curtis and musical composer Daniel Pemberton, both Michele's bass and vocals are featured on the Abbey Road Studios movie soundtrack, reinterpreting The Beatles most beloved hits. In 2022, she received public recognition for her talent, when she was awarded the AMA-UK 'Instrumentalist of the year' award.
Currently, Michele is working on her third solo album.
———————–
"To say that Michele's songs are 'rich' is rather an understatement – it has become the norm for the majority of people at her gigs to leave either speechless, or (and more often the case) crying…. Michele's solo music is truly breathtaking." – For Folk's Sake
"Steeped in languid melancholy… [it] sits in a rich tradition that encompasses such touchstone female performers as Karen Dalton, Judee Sill… Emmylou Harris or Gillian Welch… 'Pieces' may just be the most impressive record she's ever made" – 8/10 – Uncut