Barbara Dickson – "A Shirt Box Full of Songs" an Autobiography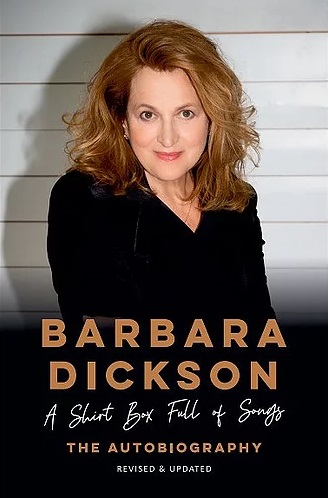 TOURING DATES:  ENQUIRIES TAKEN
BARBARA DICKSON
"A Shirt Box Full of Songs " An Autobiography
Meet Barbara Dickson in an intimate setting where she describes her life through her recently re-published autobiography "A Shirt Box Full of Songs".
From singing to the postman when she was less than two years old to her  sell-out tours in the 2000s, Barbara Dickson has been captivating her fans for the best part of sixty years. In her autobiography she describes the joys of growing up in Fife in the fifties, of moving to Edinburgh at seventeen to find her place in the world and the struggles of trying to make a living on the Scottish folk scene.
Despite becoming Scotland's bestselling solo artist in the seventies and eighties and having huge hits such as 'I Know Him So Well' and 'Caravan Song', Barbara was not content to have just a successful singing career. She turned to another: acting. She appeared in musical theatre, making Blood Brothers and Spend, Spend, Spend her own.
Her time onstage earned her many acting accolades but her pursuit of 'perfection' lead to complete exhaustion from which she fought hard to recover in the 1980s and 1990s.
Barbara's is a warm, fascinating story that encompasses the best of British music, stage and television and above all tells the story of an ordinary woman with an extraordinary voice.
The performance can take 2 forms:  either Barbara will tell her story herself OR it can take the form of an "In Conversation with…." show with an interviewer, both followed by a Q & A session and a couple of songs.